I saw this play on words in something that I was reading yesterday, but truly, it sums up a Christian's take on
gratefulness
. Being thankful for what we have, despite what we may lack, and rejoicing in the Gift we have been given no matter what our circumstances is the
Great Full-ness
--our greatest blessing.
In Christ, I am full of His righteousness.
I am full of His peace.
I am full of His joy.
I am full of His purpose.
I am full of His gentleness.
I am full of His love.
I am full of His

hope

.
If you have ever felt
hopeless,
then you know how elusive hope can be. I met a woman recently who was all out of
hope
. She lost one son in a swimming pool accident several years ago. Another son is currently in jail due to gang-related activity. She was looking for
hope--hope
for her youngest son, who--not even twelve--has already been in trouble with local authorities, and
hope
for her new grandson.
Chuck Colson, in the introduction to Steven Curtis Chapman's song
Heaven in the Real World
, says this:
"Where is the
hope
? I meet millions of people who feel demoralized by the decay around us. The
hope
that each of us has is not in who governs us, or what laws we pass, or what g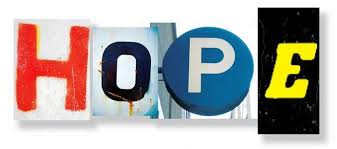 reat things we do as a nation. Our
hope
is in the power of God working through the hearts of people. And that's where our
hope
is in this country. And that's where our
hope
is in life."
While I certainly ate my fill yesterday, feasting at a glorious table surrounded by those I most cherish, I woke up to a nagging question concerning my spiritual fullness. So I'm sharing that question with you today:
Are you
full
yet?
The
Great Full-ness
can only be found, experienced, and maintained in a living, life-giving, personal relationship with Jesus Christ. My friend
Steve Sawyer
says:
Serve God by loving man; serve man by loving God.
In loving and serving others, we best express our love for and service to God. That's a truly
FULL-filling
lifestyle.